According to a study on infants and toddlers, their brain doubles in size during the first year of their life. These changes are accompanied by significant leaps in language, motor skills, social understanding, and general body development.
In their toddler years, children go through even more dramatic transformations. It is in this phase that they learn to walk and talk as well as solve simple problems. It is in this age-group that educational toys for toddlers come in handy. They not only entertain your child, but they also enhance growth in all aspects. That said, here are some toys and games suitable for infants and toddlers.
Beginner 3-Piece Puzzles
The wonders of nature interest children as much as they do adults. These puzzles will introduce your child to various colors and shapes through matching pictures. A simple puzzle will help your child recognize and determine the location of each piece. Moreover, since more companies are environment-oriented, these puzzles are made with baby-friendly non-toxic materials, which are easy to clean and disinfect. Beginner 3-piece puzzles are suitable for infants beyond six months.
Play Gym
This activity center comes with music, sounds, and light, which all work together to stimulate and develop your baby's senses. This development mostly focuses on motor skills as well as the creation of balance and coordination. This play gym is designed to grow with the baby in that a child can lie down on the washable mat, sit down and play with things at arm's length, and finally stand and move around the center. It is suitable for newborns and can be used until they reach toddler age.
Shapes and Share Picnic Basket
This talking picnic set is meant to teach children more about colors, shapes, sizes, and mannerisms through various sound effects and songs. Their motor skills are enhanced through stacking, matching, and sorting activities with the multiple pieces of the basket. The picnic basket contains a set of food items, a blanket, and other picnic accessories to stimulate the imagination and enjoyment of your young one.
Brick Construction Sets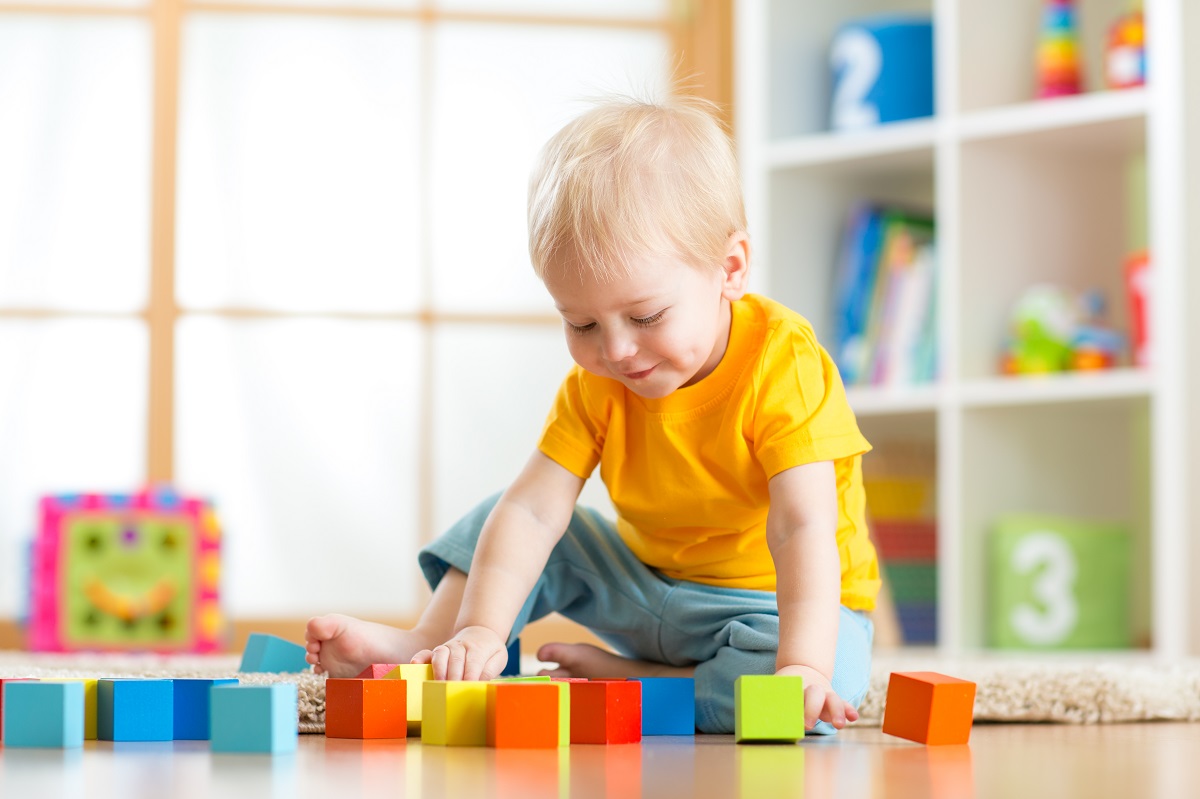 Brick construction sets are popular with modern parents. It is enjoyed by not only toddlers but also older children and even adults. They come in various models to construct different things. First, you may introduce your toddler to the construction of a simple house or a home. You can gradually move on to constructing small planets, rockets, and other slightly technical items. Brick construction helps a child develop their counting, stacking, and imaginative skills. Since bricks are suitable for almost any age, be sure to choose age-appropriate ones for your child. For example, smaller children who are still mastering motor skills should be given bricks that are easier to grip and do not have sharp edges.
Cash register
Encourage the love of math and counting by introducing your baby to a count along with a cash register toy. Children love the idea of pretending to be adults and shopping for items in stores. The cash register comes with merchandise that kids can scan on the counter. It also has a slot for coins and notes, encouraging the children to count and give back change correctly.
Check for Safety
Children must be supported in every aspect of their growth. Getting them useful toys not only helps them, but it also allows you to have some time to rest. Ensure to check the age bracket suitable for a toy before purchasing, especially if your child is still at risk of choking on small parts.