The age of information has also become an age of competition: as businesses become more adept at harnessing technology, they are increasingly using analytics in search of ways to gain a competitive advantage. And year after year, one of the main trends of focus improvement in business is the productivity of its workers.
Many studies point to having a creative and energising workplace as a key to boosting worker happiness and productivity on the job. Not only does the data back it up – it's an attractive idea, too. Who wouldn't want to work in an office with designer furniture, bean bags, and standing desks?
Unfortunately, the cost is often overlooked and can be a critical factor for startups. According to the World Economic Forum, office furniture can account for up to 25% of outfitting costs. Clearly, while having a creative workspace is good, you don't want to waste a limited budget on gimmicky fixtures or designer fads. Stick with commercial furniture and try these cost-effective solutions.
Go green
You can easily increase the vibrancy and attractiveness of your workspace by bringing nature indoors. Indoor plants are inexpensive and low maintenance accessories, which you can further complement with simple wooden elements. Many studies have shown that plants in the workplace improve the concentration, mental health, and productivity of workers.
Taking it a step further, you can engage your workers in caring for the plants. This lets them take their mind off tasks and recharge while gaining an increased sense of purpose and responsibility in being responsible for something living and growing.
Light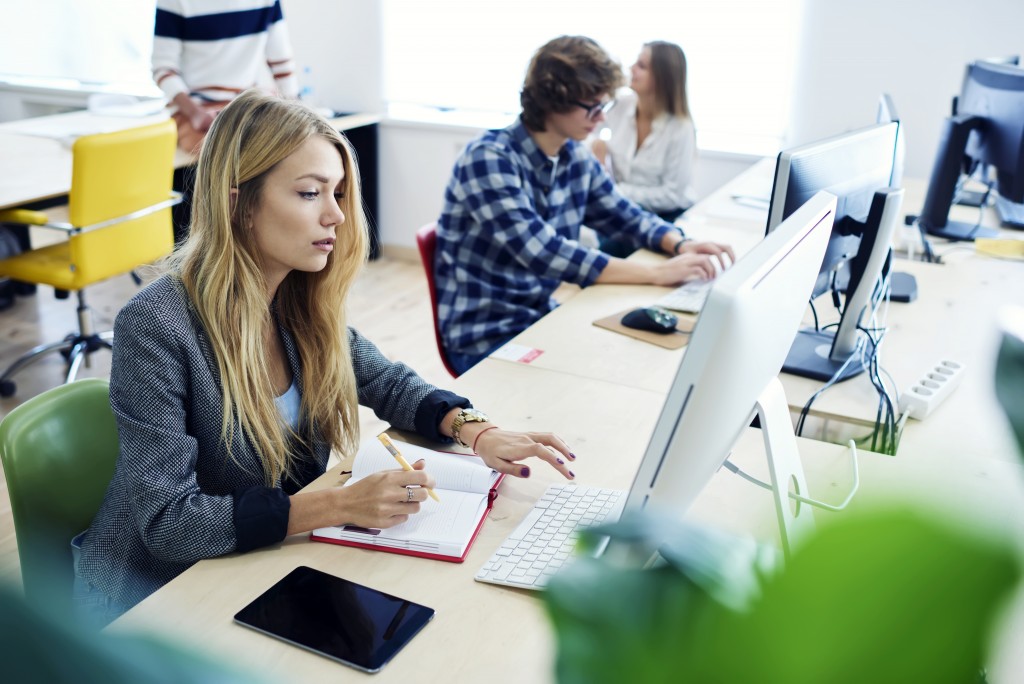 The use of daylight is another way to really go green. You'll save on electricity, and your workers will gain the benefits of natural light for much of the day. Studies show that natural light improves sleeping patterns, increases energy and creativity, and even tends to encourage people to focus longer on tasks.
Investing in a well-positioned office space with clear windows for daytime illumination can end up being a much better choice in the long run, compared to a completely walled off space with designer furniture.
Colour
People all have different colour preferences, and experts from artists to psychologists will tell you that each colour triggers specific emotions and associations. But you don't need to be an expert in colour to recognise that any colour is better than none at all.
Some office buildings have restrictions on repainting, but you can still bring colour into the office – and save on costs – with accessories. Bring in wall hangings or paintings, especially in reception areas – this can set the tone for not just employees, but visitors as well.
Make a creative space
Rather than furnish expensively all throughout the office, you can instead set aside a small space, perhaps a conference room, and spend a portion of your budget there, making it as creative as possible. Or you can simply use dividers or separators, in order to have this creative space on the same work floor as everyone else.
If you're on a budget, why not encourage sitting on the floor in this space? Few things evoke more childhood memories than playing on the floor. Make sure to keep the area clean; this is still a workspace, after all. Bring in a decorative rug, cushions, and books, and let people feel free to stretch out and relax.
Creative office spaces can get expensive, but don't have to be. If you're operating on a typical startup budget, let that be the restriction that breeds your own creativity, and find simple ways to make your workplace beautiful and energetic.