Much has been said about the online shopping trend brought about by the pandemic. Many businesses have shifted to e-commerce, setting up their own online shops, keeping their delivery hotlines, and boosting their online presence. They say online shopping is here to stay even beyond the pandemic because people have become used to shopping with just a few taps on their screens.
Given all these trends, many clothing stores refuse to shift to selling online. Why? It's because they believe that nothing can replace the consumer's experience of shopping from a physical store and being able to try on clothes on the spot before actually buying the items.
True enough, many consumers still prefer to visit stores than buy from online selling platforms. The only challenge for retail stores right now is making shopping safe for consumers amid the COVID-19 pandemic.
Retail Stores Are Back
Millions of stores around the world had to close down during the early days of the pandemic. Others had to stop operations temporarily. Some had to close down for good. Because people had to stay indoors, most of them shifted to online shopping. But almost two years into the pandemic, things are improving.
According to reports, so far, there have been 4,602 store openings recorded in 2021. Aside from this, authorities also recorded at least 1.1 million job openings this June. This shows how retail stores are now getting back on track, given that the economy is slowly recovering. With more people getting vaccinated, more consumers are returning to pre-pandemic activities such as shopping and dining in their favorite restaurants.
Buyers Prefer the Actual Shopping Experience
These consumer activities can be traced to the convenience of actual shopping. According to the State of the In-Store Experience Report conducted by Raydiant, 48 percent of the respondents said they'd choose in-person shopping at an actual store rather than in an online store. Meanwhile, 47 percent of the respondents said they spent more than half of their shopping expenses at a physical store this year rather than in online stores.
They said they enjoy the experience of actual shopping. Some said they want to try the products before buying, while others refuse to pay shipping fees. This is especially true for retail stores that sell clothes and shoes, in which the actual size matters before the purchase.
In a separate consumer survey, almost 40 percent of consumers bought from an actual store at least once a week this year. Part of the reason is that they get to have the item purchased right away, compared to online shopping, where buyers have to wait for delivery. They also like the idea that they can return the item immediately if something is off. They also worry about security, fearing that hackers will use their credit information in online shopping.
Bring Back Their Confidence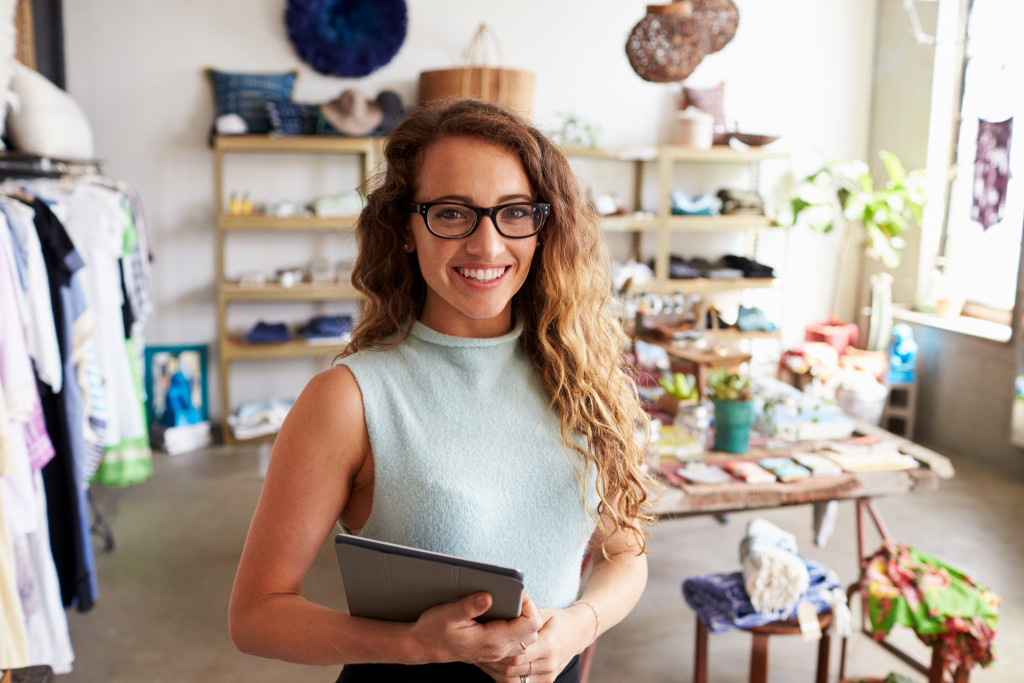 The only thing that keeps buyers from fully getting back to actual shopping is their fear of the virus. If clothing stores can reassure the public that shopping is safe and convenient, there's no doubt more people will go to the clothing shops this year.
So how do you reassure the buyers that it is safe to visit your clothing store? Here are some tips:
Convert your store into an outdoor shop: If you can transfer your shop outdoors, that option is always better. If people see your store has proper ventilation in your area, they will more likely visit your store. People are encouraged to stay outdoors as much as possible to prevent the spread of COVID-19.
Redesign your clothing store: Rearrange your cabinets and clothing stands in such a way that will allow social distancing within your store. Make sure to sanitize your area every hour and keep the toilet clean. If your budget calls for it, you can upgrade the equipment your store currently has. You can buy quality soap dispensers, waste receptacle units, and toilet compartment accessories from quality retail hardware stores like Banner Solutions.
Limit the persons allowed per batch: Establish a system to control how many people can roam around the store within a specific period. By doing this, you keep the crowd to a minimum. You don't only prevent the spread of the virus; you also prevent accidents and theft attempts within your store.
It isn't true when they say that retail stores are done for good. Business is back as usual, now that the world is on its way to recovery. In fact, some stores are just starting their game. Soon enough, consumers will feel more confident to go out, and they will shop at their favorite stores in no time. For now, you need to prepare your store for your comeback. Your customers deserve to shop safely and conveniently despite the pandemic.