You can have different goals for every marketing campaign that you launch. You can even target a person halfway across the globe with an online ad if that is one of your objectives. At the same time, you can also sell to your next-door neighbor in different ways.
This is community marketing. And even though there are multiple ways community marketing is done and defined, the basic principle is to engage locally. The scale can be throughout a small neighborhood or a whole town.
What is community marketing for?
A cosmetic brand can target a person living in another country as long as it's possible logistics-wise for the customer to make a purchase. Different kinds of marketing can be applied to make this possible. However, not all businesses need or can cater to an audience as wide as that. And, of course, you already know that.
Sometimes all a business needs to do is small-scale marketing, especially for specific services. They don't even have to cater to the whole country or the neighboring state if that's not their goal.
A commercial cleaning company only needs to market its services to places where it can provide the service. You have to make sure your advertisements reach the local school, the companies, and the coffee shops, the clinics—basically the whole community.
This is where community marketing comes in. However, community marketing is not limited to businesses of such a nature. Even that cosmetic brand can use local marketing.
How do you market locally?
1. Engagements through local promotions
An affordable way to do neighborhood marketing is by creating local engagements. If you have a physical store, you can host different events to invite people in, creating brand awareness in the process.
For example, if you own a diner near a school, hold events and promotions specifically for students. Maybe students can get coffee refills from 3 PM to 6 PM every school day.
You can also do this if you own an online store by offering free shipping promos for people within your area. Or offer special discounts coinciding with local events. For example, your local sports team bagged a championship. Celebrate with the whole town by holding giveaways and other special promos.
Sponsoring an event will also widen your reach and increase brand recall. Event flyers and streamers with your name and logo on it can do wonders.
Also, remember that if you put out local ads, you have to speak the language of the community. Are there specific things your community is known for?
2. Visibility in local online searches
Just because you are a local business doesn't mean all your marketing efforts should be on-ground. People nowadays google where they can get specific stationery set in the area. As a small business, you should capitalize on the Google MyB Business feature of the number one search engine.
All you have to do is claim your listing on Google My Business. Add your business name, your exact location including directions to your physical store, website link, and operating hours. Boost your listing by adding photos.
This listing is what comes up when people search for "craft supplies store near me." You definitely want to come up high on the list when they do a search related to your business. You can also do this for other search engines, not just Google.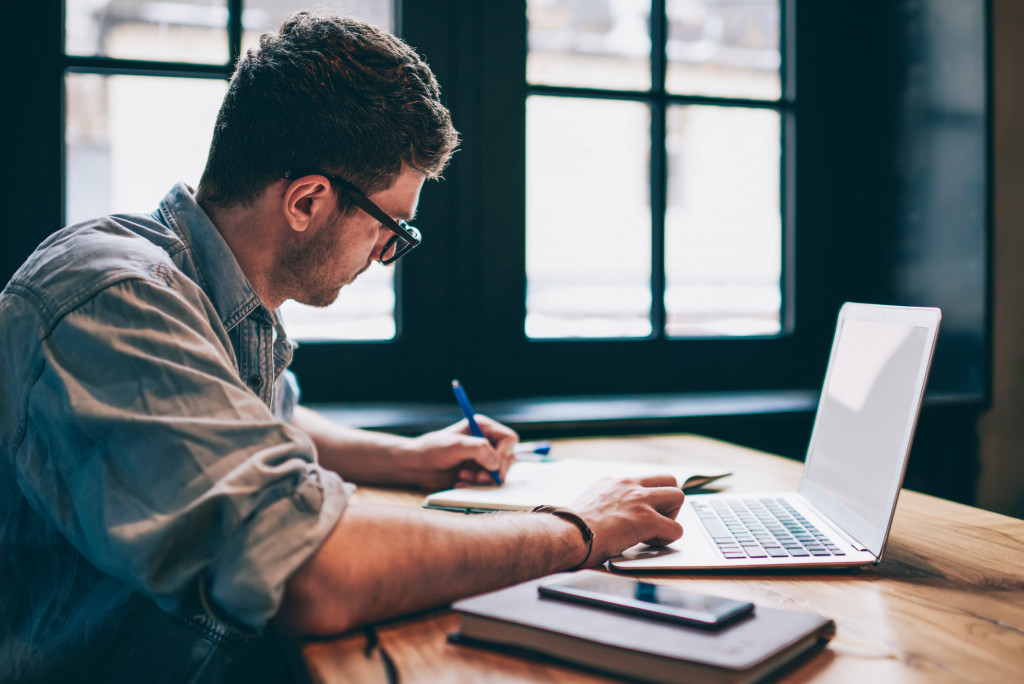 3. Partnerships with other local businesses
A community is not considered one without connections and relationships. For sure, there are other businesses in the area. Look for opportunities to do collaborations with them.
If you are a local baker, you can talk to a local coffee shop requiring a pastry supplier. When you do so, you can include the name of your own business so that people know that you exist. You make sales while you also increase your reach.
You can also look for suppliers from the neighborhood as a means of support. If applicable, always include terms such as "locally sourced" and "homemade" in your products.
4. Features in local publications
If there are no more local publications circulating in your neighborhood, you can always go online. If there are known local pages located in your area that publish lists such as "The Top 10 BnBs for your Next Staycation," make it your goal to be featured by them.
These pages already have an established following. The two-minute spotlight can be enough to pique people's curiosity and give your brand a try.
Local marketing is usually a low-cost venture. You just have to get as creative as you can to give the best service to your own community.