Teachers and students from across the globe are now treading uncharted territory, education-wise, as the whole world struggles with the COVID-19 pandemic. Before most of the school sectors were even prepared to do so, schools have had to transition student management and instruction from in-person to distance and/or blended learning formats.
Even before the pandemic besieged the world, a few educational institutions have gradually been integrating learning management systems (LMS) as a way to streamline access to information and organize control over student progress. Some have likewise begun experimentation, in varying degrees, with blended or virtual learning as a way of maximizing technology for improved education delivery.
But the coronavirus pandemic has pushed everyone in the school sector to hasten the development of virtual instruction suitable for their respective environments. It is fortunate that technology and innovation have been significantly helpful to this worldwide transition. The use of LMS not only improved in-school efficiencies of instruction delivery, data exchange, and progress monitoring, it has facilitated distance learning quite effectively.
If your school is still in the process of acquiring an LMS, learn more about features you should look for in a good platform and how it can benefit your learning organization.
Learning Management Systems (LMS)
A Learning Management System (LMS) is a software-based application designed to streamline administration, reporting, monitoring, and the delivery of instructional programs to learners. Aside from delivering and storing educational materials to and for learners, assessments and tasks can be conducted and submitted through the system, while it records student performance. Learning management systems have been proven effective not just for distance learning but also for in-school and hybrid learning formats.
LMS Features to Look for
In choosing the most suitable eLearning platform for your school, assess your options among the following basic criteria:
Functionality – does it offer a wide range of capabilities that will allow you to communicate through various channels (such as chat rooms, forums, and learner analysis, among others)?
Reliability and flexibility – how resilient is the platform against external challenges such as internet outages or heavy user traffic?
Cost – system, implementation, maintenance costs combined, as well as the number of user licenses you get.
Content Development Tools – is there significant ease in creating and developing educational content?
Technical Support – what is the quality of after-sales support and maintenance?
Assessment delivery – is there added ease to conducting and collecting student tests and tasks?
Ease of use – will teachers and students easily navigate interfaces?
Modularity – are you able to organize modules and sub-modules logically and easily?
Wide access – will differently-abled students be able to access learning materials
Multimedia formats – can learning be facilitated with dynamic formats such as audio and video playback, 3D graphics, animation, etc.?
Scalability – is there room for future expansion in terms of student reach, content storage, or upgraded features?
Cross-Platform capability – how will it work across different operating systems, hardware specifications, and digital device types?
Top Benefits of K12 LMS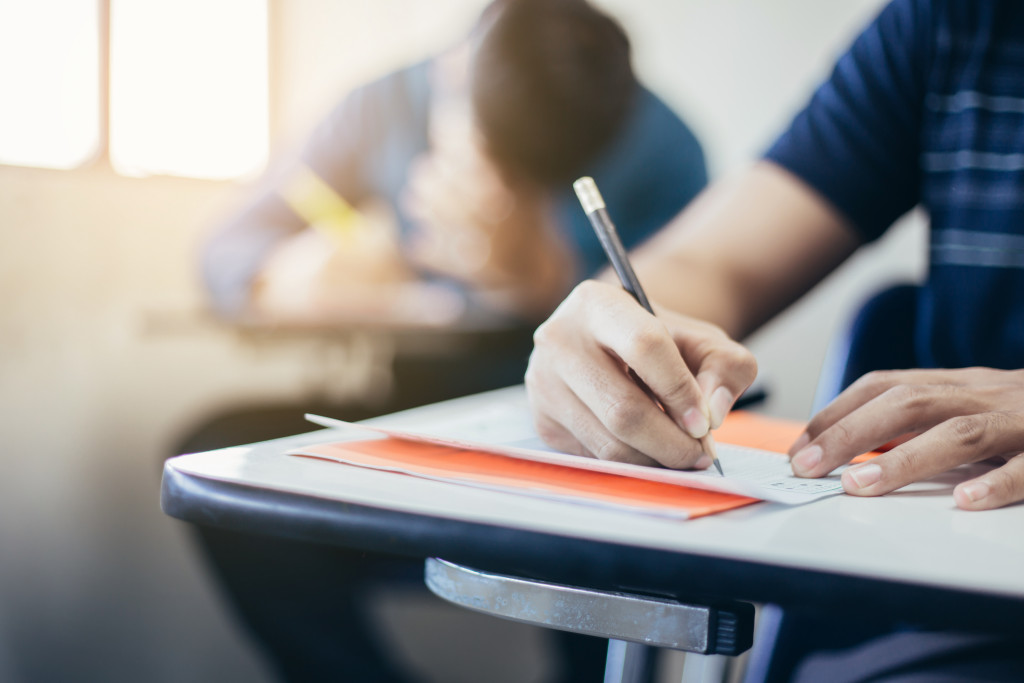 Storage convenience. All pertinent information and instructions can be accessed with one log-in, whether in school or remote locations. Homeworks and paper-based projects can be stored and submitted through the platform.
Streamlined communication. An effective LMS provides ease of communication and feedback-sharing between administrators, teachers, students, and parents. Access to archived communication will be useful for tracking and reporting. For instance, parent-directress conferences are now more convenient over video conferencing tools while sharing test papers and report cards is aided by digital technology.
Progress tracking and analysis. Administrators, teachers, and students will have virtually instant visibility to an individual or collective teacher and student performance and easily identify potential issues within the curriculum or assessment procedures. It may be possible for student population trends and percentages to be instantly calculated for streamlined reporting.
Customized assessment, rubrics, and instructional tools. Teachers will have the opportunity to exercise creativity in customizing tasks and assessments and the tools that students need to complete their deliverables. It will also become easier to share resources with other instructors. For example, instruction material on the Three Principles of Social Catholic Teaching from one subject can be tied up with and accessed by students for a Values Education or Social Studies performance task.
Convenient evaluation. Student performance is much easier to track, record, and organize tasks with rubrics integrated into the system. Science or laboratory work data may be recorded by a student and made available to others in group-based activities. Also, teachers can access this data for easier monitoring and grading.
Round-the-clock access. Key personnel, students, and parents are able to access elements in the platform from anywhere and anytime. This helps students work at their own pace more, while also ingraining initiative and time management. As an example, a working parent would be able to monitor their child's school participation even from the office.
Collaboration. Having a central repository of reports and resources fosters better cooperation and involvement among administrators, teachers, and parents for the benefit of students' progress. This allows for more involved recognition practices, as well. The school may call for an online conference among all parents in the same grade level for, say, a PTA meeting.
Several academic, administrative, and motivational elements need to be considered throughout the process of selecting the most suitable Learning Management System for your school organization. To facilitate distance or blended learning, take advantage of software-based solutions that streamline communication, reporting, analysis, collaboration, etc. Prioritize LMS features such as scalability, multimedia abilities, modularity, among others if your school is fully-online in this time of a global pandemic.